DIY Jewelry Making Kit for Adults Beaded Bracelet Making Kit Coconut and Azaid Seed Stretch Bracelet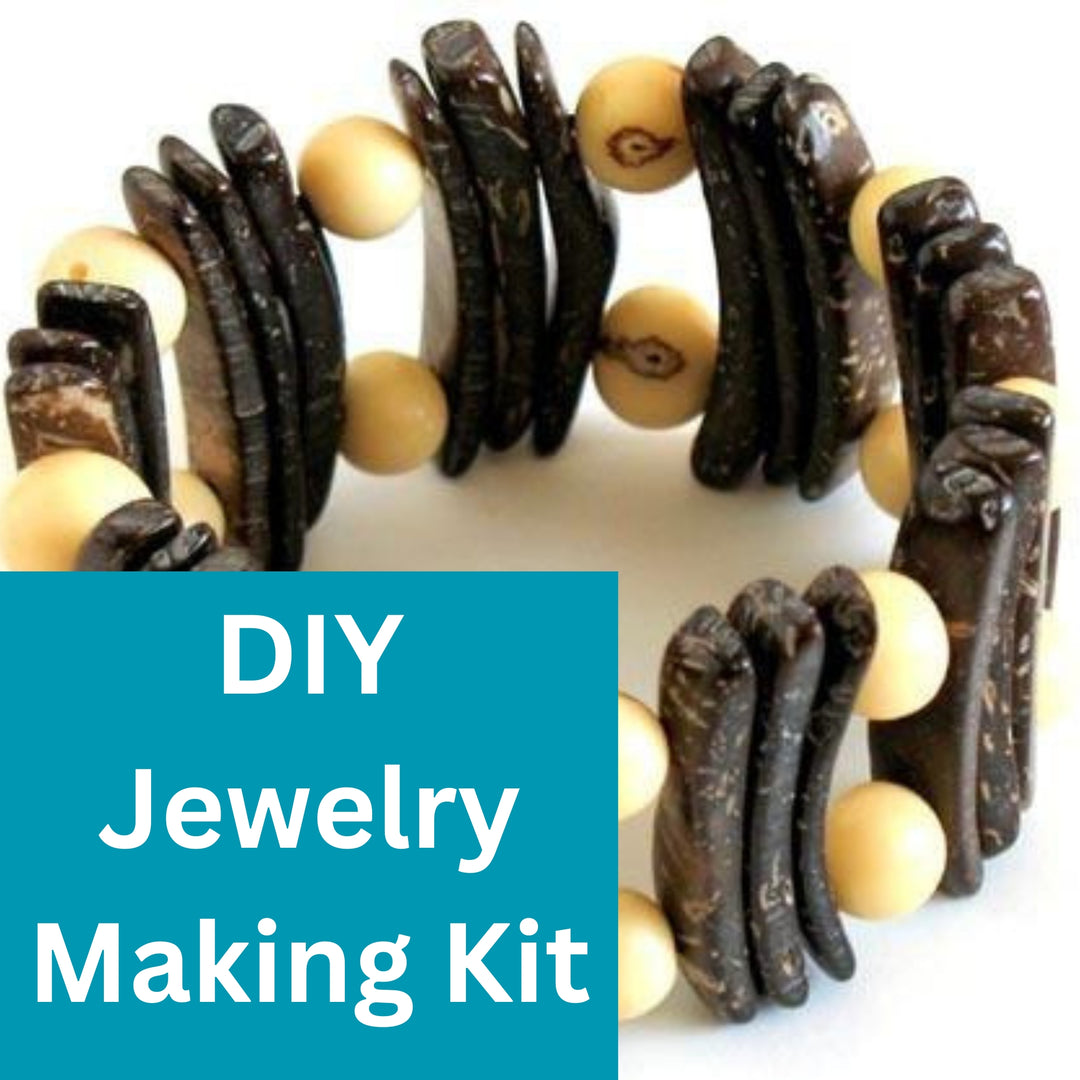 Introducing our DIY Beaded Coconut Beach Bracelet Kit

**Boho Chic Elegance:** Our Coconut Beach Bracelet diy bracelet making kit effortlessly embodies the free-spirited essence of boho chic fashion. Its earthy tones and natural materials capture the essence of beachside relaxation and adventurous wanderlust. It's the perfect accessory to complement your casual beach attire or to add a touch of laid-back luxury to your everyday look.

**Handmade Craftsmanship:** There is nothing like crafting your own jewelry. You can take pride in crafting this DIY bracelet, whether you keep it for yourself or give it as a gift. The simple design can be followed to a t or you can mix it up with your own creative touch.

**Tropical Inspiration:** Our DIY Coconut Bracelet Kit is a wearable slice of tropical paradise. The coconut wood beads exude the warmth of sun-kissed shores and the lush greenery of palm trees swaying in the breeze. With this bracelet on your wrist, you'll carry the spirit of the tropics wherever you go.

**Unisex Appeal:** The Coconut Beach Bracelet is designed with both men and women in mind. Its versatile and understated design ensures it complements any outfit, making it a perfect accessory for anyone who appreciates the beauty of nature and the allure of the beach.

**Comfortable Stretch:** With its stretchable design, this bracelet design and materials offer a comfortable fit that accommodates various wrist sizes. You can easily slip it on and off, ensuring hassle-free wear for all-day comfort.

**Quality Materials:** Crafted from genuine coconut wood beads and azaid rainforest seeds, this DIY Coconut Bracelet Kit is not only stylish but also eco-friendly. The coconut wood and seeds used in our bracelet kits is sustainably sourced, making it a conscious choice for those who care about the environment.

Whether you're lounging on the beach, exploring a tropical paradise, or simply adding a touch of coastal charm to your everyday ensemble, the Coconut Beach Bracelet is your go-to accessory. Make a statement with this unique, DIY piece that celebrates the beauty of nature and the allure of the beach. Order yours today and infuse your style with the essence of paradise.

Shipping Information:
Free shipping in US
Ships from Arizona within 2 days
🇺🇸 Free shipping in USA.
🇺🇸 Ship out from Arizona within 2 business days of purchase.